Today's game marked the halfway stage in the FAWSL. At the moment various sides have played a different number of games but this was to be Lincolns 7th, and therefore the Imps would be halfway through their league fixtures. Although Lincoln have performed well in the cup competitions the white elephant in the room was that after 6 league games played, the Imps had yet to record a league win. If Lincoln were going to break that streak then they would have to do it against a very good Bristol side that knew that if beat Lincoln they would go into the midway point of the season joint top of the table.
The sides have locked horns twice already this season. Bristol drew first blood with a deserved 2-0 win over Lincoln in the semi finals of the FA Cup at Ashton Gate, but the Imps gained a revenge of sorts a week later when they won a Continental cup ground game 1-0 at Bristol's regular home stadium (the venue for today's game) courtesy of a late Precious Hamilton close range effort. I attended the FA Cup game but missed out on our win in the second game. The story of my life really.
The main reason that i missed out on the Continental cup game was the kick off time being 6.00pm on a Sunday evening and my needed to get up at 5.00am the next day for work. With today's game kicking off on a Saturday it made it a little better, but from an away fans point of view it still isn't great as it meant getting into Lincoln at around midnight. With this is mind it wasn't surprising that our travelling numbers were a little down on what they normally are. I can understand how a 6.00pm kick off would suit Bristol when there is an overlap with the men's season, as it means you can watch either Rovers and City and then head out to the Ladies game. It has to be said that Bristol's official crowd numbers are pretty good so the kick off times must be working for them.
At least a late kick off means a bit of a lie in and a chance to sleep off the previous nights hangover which is always a welcome event. Our mini bus for the trip had a kind of reverse tardis feel to it. From the outside it looked quite spacious however when you got inside it was a tad snug but it did the job perfectly and at 12.00pm we were on our merry way down to the west country for the third time this season. The weather was pretty overcast when we left but it did get a lot warmer the further south we travelled. Although it was a long journey down the normal amount of banter and giving each other plenty of stick helped pass the time. It was all a great deal of fun, however my own high point was at the service centre when i tried a Krispy Kreme doughnut for the first time. It was of course delicious and left we wondering why i didn't get these things in my life sooner. However if i did i would be even more out of shape that i am now.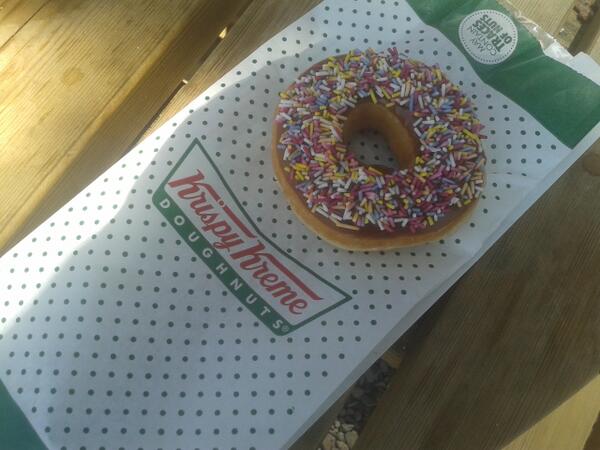 The only downside of scoffing doughnuts in the sunshine was that we had a to get back on the bus, which had by now got rather stuffy and warm; mainly due to the obvious sunny weather and the fact that none of the windows opened and air conditioning was a lacking commodity. Thankfully however we found a decent pub a stones throw away from the ground (The
Fox
Den
) with a cracking beer garden that was an idea place to spend a good hour or so pre game. And after a long bus journey, three pints of lager and a rum and coke went down a treat. It was the kind of place that i could happily stay in all afternoon but alas we had a football game to attend so at about 5.20 we headed over to the Stoke Gifford Stadium.
Tickets for today's pulsating encounter were £5 with the programme costing £2. Bristol are going down the route that many other clubs in the men's game have been doing over the past ten years or so, in which you have to queue up to buy a ticket then join the queue to get into the stadium. The ticket selling point and the entry gate are pretty close together but it still makes getting into the ground more time consuming than it should be. Programmes are also on sale from the ticket sale hut and are a decent enough read.
The Stoke Gifford Stadium is an athletics stadium and a pretty decent one at that. Quite often this kind of stadium design is let down by the fact that you can't get close to the action behind the goals due to the arch of the running track. Bristol however have avoided this pitfall by erecting fences behind each goal so you can get up close to the action behind the goal if you so wish to. Down one side of the stadium the club have set up three small temporary seated stands which are about 6-7 rows deep, in very much the same mould as the seated areas at Retford United, Lincoln Moorlands, and Carlton Town etc. I am led to believe that the middle stand of the three is reserved for VIPs and not for the great unwashed. I say this because in our previous game down here some of our travelling fans were booted out of this lofty vantage point for not having VIP badges. In light of this it seemed security was beefed up in this area of the stadium today.
There is also similar stand behind the far goal where i believe the feared "Smurf Army" hangout. One thing you can't help but notice is the large amount of Bristol City posters dotted around the place as a result of the club's link up with Bristol City. Bristol seemed to have changed their first choice colours to red this year, so i assume that this is part of the deal. Having said all that the hosts did wear blue today. The club seem to put quite a lot of effort into the match day experience; not only is there a decent snap waggon selling pretty good food that doesn't cost an arm and a leg, but they also had a stall selling sweets and pop and stuff that went down well with the kids, and for the adults an outside bar was put on which was fantastic with the weather being great. They also have a club shop stall where i managed to pick up a club pin badge, The first FAWSL club badge i have managed to get. Its a bit of a mystery to me as to why the other clubs haven't sold club badges given how many badge collectors are out there. I really liked this friendly set up and it has something for everybody. Sadly though as the FAWSL moves forward in a direction that favours bigger stadiums, set ups like this could be a thing of the past. We decided to stand on the far side of the stadium which was furthest from the toilets which meant i did a fair bit of walking in the first half.
Lincoln are still in the midst of an injury crisis, with Casey Stoney and Remi Allen still unavailable. On the plus side Sophie Bradley was fit enough to start the match after coming off during the Doncaster game on Tuesday night. However, to even out that good news, Precious Hamilton was unable to make the trip; "It never rains but it pours" i think the saying goes.
Bristol have one of the best forward lines in the league and are certainly one of the best attacking sides out there, and they were quickly into their stride forcing Karen Bardsley in the Lincoln goal into a couple of smart saves in the first five minutes. Lincoln's best attacking outlet this season has again been Jess Clarke, and she was at the heart of most of the good things that Lincoln did going forward. As you would expect Bristol did create more of the chances but struggled to break Lincoln down. The Imps may have had a young back four out on the field but they looked steady and coped with everything in front of them aided by great defensive work in front of them by Megan Harris who managed to send the ball into the VIP lounge behind the goal with a wayward shot. That will teach them for knocking us out of the FA Cup.
Have it!!!!!!!
And then just as it looked like Lincoln had settled into the game they conceded a poor goal that really was a kick in the teeth. A quick throw in down the left was collected by Natalia Sanchen who scampered to the byline and sent in a low cross that was missed by everybody and found Laura Del Rio, who doesn't miss chances from a yard out and made no mistake in giving the Vixens the lead in the 34th minute. I didn't have the best view in the house of it as i was on my way back from purchasing a double cheeseburger (£3.50) which although very nice, didn't really make up for going a goal behind after so much good defensive work. Food always tastes so much nicer when you are winning. The Imps may have gone into the halftime interval 1-0 down but they were still very much in the game.
Just four minutes after halftime Lincoln had a great chance to get back in the game. Megan Harris made a great run through the centre and lost her marker when she managed to connect with a Jess Clarke cross. She beat Bristol keeper Siobhan Chamberlain to the ball and prodded it past her. Now had Lincoln been 1-0 up, flying high and top of the league and scoring goals for fun then the ball would have gently rolled, hit a divet, and gone in the net. However we are not any of these things, and the ball bobbled and rolled the wrong side of the post. It was one of those moment in a game that seem to go in slow motion. We just can't buy a break at the moment.
The game didn't quite flow as freely as it did in the first half but Jess Clarke and Carla Cantrell did give the Bristol defence quite alot to think about but the final ball was just lacking. Alas after being very competitive Lincoln again shot themselves in the foot on 80 minutes Karen, who had had a great game in the Imps goal, failed to hold on to a shot from Sanchen and the rebound was bundled home by Watts, and it looked like Bristol had bagged the points. However Lincoln weren't quite finished yet.
With four minutes to go Jess Clarke picked up the ball 25 yards out and blasted a fantastic effort past Chamberlain and into the far corner. All of a sudden Bristol looked a tad rattled and had to survive a late flurry of Lincoln pressure at the end, but they held out and sent Lincoln to their fourth defeat of the campaign.
It was a dejected looking set of Lincoln players and coaching staff that trudged off the pitch and i get the feeling that the international break can't come soon enough for the club. Although it may not be much of a conciliation I felt Lincoln put in a real shift today. They were missing two key players in Remi and Casey, and took a very good Bristol side all the way. We have struggled for goals all season and with only having two recognised strikers in today's squad it was always going to be a very tough ask. The back four did well for the most part and in my view Megan Harris had her best game of the season to date and if her effort just after halftime had bobbled in then who knows what may have been. As it stands Lincoln have seven games still to play this season, 21 points still on the table and a nice seven weeks to recharge the batteries. I am not saying its all rosy in the garden by any means. There is alot of hard work ahead when the season starts up again so lets not get too downhearted and try to enjoy the Euros.
As a final thought i was quite impressed with Bristol's post match arrangements. Before the game two players and nominated to sign autographs and it seemed a very popular thing with plenty of autograph hunters young and not so young about. The Lincoln players were also happy to sign things as they left the field as well so its a big pat on the back to the ones that signed stuff. I can imagine that its much harder to do this kind of thing when you have lost instead of winning so fair play. Lets hope we have something to smile about in August.
HONK HONK !!!!