Today saw not only saw Lincoln Ladies take to the road for this first time this season but it was also the first away day outing for the Lincoln Ladies supporters club. A mini bus had been booked, names taken, and in the end we filled 16 out of the 17 seats on board; which is a great effort for the first journey of the season and a great start for this fledgling group. We assembled at the Birchwood leisure centre and by 11.00am we were on our merry way; down to Stratford Town FC in Warwickshire, home to the current women's FA cup holder's Birmingham City ladies.
For all you out there that aren't non league football geeks/saddos like me, Stratford Town play in the Midland Alliance which is the 5th tier down in non league football, the same level at which Lincoln Moorlands currently ply their trade. They are however top of that division by some considerable distance and so will be promoted to step 4 which is the same as Lincoln United. At this level football is organised to save transport costs so there is a chance they could well be in United's division next year. Whichever division they go up into however, this will still be the lowest level ground used for FAWSL matches. There's a nice little piece of football trivia to bore/impress your mates with.
On our way to the ground and after the game it was obvious that Stratford Upon Avon is a very quaint, scenic, little town that looks like the perfect place to spend a weekend away. However none of this charm has rubbed off on the football ground, as it is in the middle of a residential area with nothing else around it. Just outside of Lincoln we had hit some traffic which had made us a good 20 minutes or so late meaning that we parked up at about 1.20pm and headed over to the one turnstile block that was open and joined the queue. No need to ask the all important question"To drink or not to drink?" as there is nowhere to drink. The great bard wouldn't be impressed that his home town club doesn't serve ale to the great unwashed.
After an amusing moment of watching the "Mr Jumbo" Ice cream van get into the stadium, we made our way to the front of the queue and parted with our £6 entry fee. In return we were handed a smart match ticket with a map of St Andrews stadium on the back. For this stadium a map isn't really necessary or required. As you enter the ground their is a smart seated stand to your right and next to that the boardroom and hospitality area. The rest of the ground is uncovered with hard standing all the way round. For some strange reason i quite like it. Although i think its a ground that is better suited to summer football, due to the lack of cover. To the right of the turnstile you will find a little hut that sells both Blues merchandise (flags,shirts etc) and also Stratford Town stuff as well. It is here that I bagged today's matchday programme for £2.50. Its a very smart production although there isn't a huge amount to read in it. I did like the letter Lincoln manager Rick Passmoor had written, and its something i haven't seen in a match programme before so extra points for that.
One pleasing thing that struck me as we walked around the ground was the following that the Lady Imps had here today. There is no way of exactly putting a figure on it but i would hazard a guess at about 40 or so were in the Imps corner today.
As we watched the warm up you couldn't fail to be impressed with manager Rick Passmoor's passion and positive vibes he gave off as he put the players through a tough warm up. A lot of head coaches/managers tend to stand back and watch when their side warms up, but Rick is always right in the middle of it leading from the front and its great to see. The gaffer had made three changes to the side that had lost 0-1 to Liverpool the previous week with Sophie Walton (complete with pink headband) coming in for Bonnie Horwood at right back, Emily Roberts replacing Hayley Bowen on the right wing, and also a début for Amy Turner coming in for Sophie Bradley at centre back (she had picked up a knock). So with two changes to the back four it was very interesting to watch Rick take the back four to one side and put them through a tough warm up with the emphasis on quick, decisive decision making. If in doubt get rid seemed to be the key.
Speaking of débuts, this was also the first outing for the now famous Lincoln Ladies pink away kit. I am the proud owner of one of these, but alas my other half had forgotten to wash it so i was unable to wear it today. Words have been had however, and it wont happen again i assure you.
Lincoln Line up
Karen Bardlsey
Martha Harris
Casey Stoney
Amy Turner
Sophie Walton
Emilly Roberts
Remi Allen
Megan Harris
Jess Clarke
Precious Hamilton
Carla Cantrell
Subs
Hayley Bowden
Bonnie Horwood
Sophie Bradley
Amy Kay
Lincoln started the game kicking from right to left and towards the end where most of their fans had gathered. I think that its fair to say that the first half wasn't really a classic. Both sides struggled to keep hold of the ball, and neither really hit a string of passes together. Lincoln did however, look a lot more lively than the previous week, and Hamilton and Clarke's pace both caused the blues' defence problems from time to time. At the other end Lincoln looked strong as Casey lead the Lincoln line superbly. Birmingham did have the first real chance when they won a free kick after about 10 minutes, or so but Karen Bardsley gathered it at the second attempt. At the other end the Imps were nearly in when Remi Allen knocked a great through ball through for Precious Hamilton to chase down, but Hourihan in the Birmingham goal just beat her to it. The game was getting a bit scrappy with both sides cancelling each other out so i judged this to be a great time to get something to eat.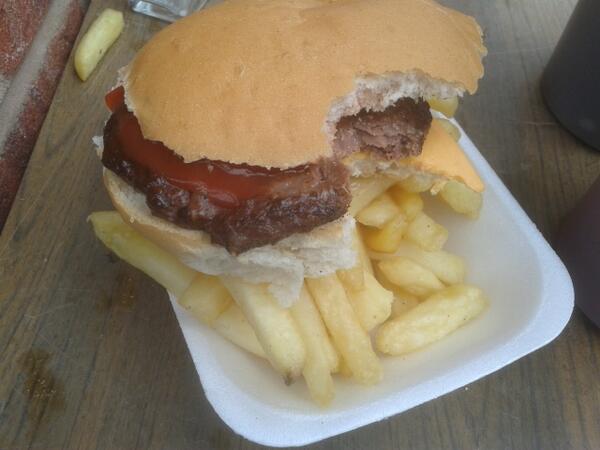 Having not eaten since a couple of slices of toast in the morning i was a tad peckish so i opted for a cheeseburger and chips, oh and a can of diet coke with it came in at a reasonable £5.20. It was a fairly decent effort that was both tasty and filling. A respectable 7/10.
Back on the pitch and the tackles were flying in, but both defences were standing firm. Just before half time Birmingham had a great chance to take the lead, but thankfully from a Lincoln angle, Rachel Williams fired just wide from close range. There was just time before the whistle for Birmingham to waste another good chance when Jade Moore hit a curling shot over the bar. Following that our referee Lisa Rashid brought the first half to a close.
At halftime we took a stroll around the ground and took a few pictures of the ground. For the second half myself and my sidekick took up a position behind the goal that Lincoln were attacking. We had a brief chat with a teacher from Telford who had brought a group of school children to the game. Its great when you hear of clubs reaching out to schools like this and getting fans interested in the women's game at an early age.
Back on the pitch Lincoln came out for the second half in a determined mood and had the better of the early exchanges. As the game had wore on the wind had picked up and it was behind Lincoln making life tough for the hosts. Lincoln won a corner that was swung in by Cantrell, it was cleared as far as Hamilton who sent it back into the box, and Jess Clarke flicked the ball past the on rushing keeper to give Lincoln the lead in the 61st minute.
Birmingham were clearly rattled by the goal and were lucky not to go 2-0 down when Hamilton raced down the wing, cut inside the fullback, and forced a smart save from Hourihan when she got down low to her right to send the ball out for a corner. Birmingham started to look a little ragged and were quick to blame each other when a move broke down or a player made a mistake. Lincoln seemed to feed on this and created several half chances but just couldn't find the final touch. Then just as it looked like The Imps would see the game out..Birmingham equalised in the 85th minute.
A cross found its way to Kirsty Linnett who fired in a shot which took a huge deflection and went in. I am sorry for the vague description of the goal but it was at the far end to us and we were stood at pitch level which didnt give us a great view of the other end. All of a sudden from looking fairly comfortable, Lincoln looked a little wobbly, and they nearly lost it in the last minute when Lawley missed a fantastic chance. It was real heart-in-mouth stuff for Lincoln but they held out for a much deserved point.
Although it's always a bit of a sickener to conceded a late goal, i left the ground feeling that there were plenty of positives from this performance from Lincoln. If we start at the back it was a very impressive début from Amy Turner at centre back. Birmingham always give you a tough battle upfront, but Amy wasn't fazed at all. Sophie Walton was also her usual solid self and looked like she had never been away. As an attacking force, Lincoln looked alot more composed and I was very impressed with the way that we pressed Birmingham high up the pitch and hunted them down in packs when they had the ball. A great example of this was late in the second half, when Birmingham tried to play the ball out short from a goal kick and pass their way out up the pitch. Lincoln pounced on them straight away with Megan and Precious closing the Blues' defenders down and forcing them to hit the ball out of play about 20 metres from their own goal line.
The general view on the bus was that the Imps had gained a great point here, and that this was a much improved performance on that of last week. Onwards and upwards we go. I have never turned my nose up at a point away from home so i wont start now. We left leafy Stratford upon Avon at just gone 4 and arrived back in Lincoln at 6.30pm.
This was our first outing together as a supporters club and it was a great success. Tom has done a fantastic job over the last few months putting all this together, and i am sure that everybody on the bus will join me in thanking him for making this possible. A shout out must also go to Andy for driving us there. The next trip is to the big FA Cup semi final clash at Bristol City's Ashton Gate stadium. There are still a small number of seats left so email Tom if you want more information.
See you all their folks.
Thanks to my sidekick for putting up with me, and Happy Birthday for Friday!!!